Students launch UKHarvest Food & Fuel Project ​​​​​​​​​​​​​​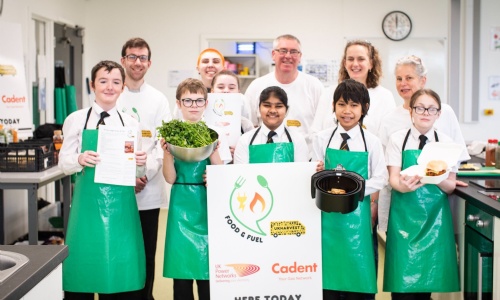 The Basildon Academies recently welcomed guests from the food rescue charity UKHarvest and, UK Power Networks with a new environmental project aimed at reducing food waste.
The Basildon Academies were lucky enough to be selected as the school to launch the Food and Fuel education programme.
Lower and Upper Academy students learned about 'Food & Fuel' and how nutritious meals can be produced efficiently and keeping the cost of food down whilst maintaining the delicious taste of healthy cooked food. Students had the opportunity to put this into practice as they were tasked with producing a meal cooked in air fryers. Students excelled at the task and delivered delicious veggie burgers and fries.
The project, run between Cadent, UK Power Networks and UKHarvest aims to reach up to 20,000 students and their families in 70 schools across the East of England. The project also aims to support the financial and physical wellbeing of young students and their families by offering workshops, lessons, web-based assemblies and online cook-alongs.
"This was such a great experience, so much so that I now have a passion for cooking! I learned many things including how to make delicious food in an air fryer." Flaviu.C – Year 10
"This was a lot of fun especially as I love cooking. My favourite part of the lesson was choosing the ingredients we needed, and using the air fryers. Our visitors were so friendly and helpful and I'd love for them to come back." Kamile.P - Year 7
"I enjoyed this experience so much. Making burgers was a little bit messy but it was really good fun." Summer C.T – Year 7
"It was an absolute pleasure to work with UK power networks and UKHarvest. The students enjoyed the experienced. We look forward to working with them again in the future." Peter Stavrinides – Teacher of Catering
As part of the project, our guests very generously donated 15 air fryers and 15 slow cookers to the school's catering department to use for future lessons.
For more information about the Food & Fuel project please visit:
www.ukharvest.org.uk/food-and-fuel